Information
---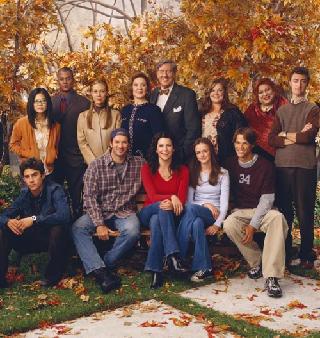 Created by Amy Sherman-Palladino

The Story

Lorelai Gilmore had Rory when she was 16. She ran away from her family and the father to Stars Hollow Connecticut. Her parents, Emily and Richard Gilmore, live in Hartford, which is just 40 miles away. Rory is now 16, and just got into Chilton Prep School. The only problem is that tuition is so high priced, that Lorelai has to ask for her parents help to pay for it. This causes them to request that in return Lorelai and Rory have dinner with them every Friday night.

Lorelai is manager of the Inn in Stars Hollow, and her friend Sookie St. James is the cook. Both Lorelai and Sookie want to some day own a Bed and Breakfast together. Sookie is very up beat most of the time, and acts a bit hyper.

Rory's best friend is Lane Kim, and Lane goes to Stars Hollow High, where Rory used to go. Lane's mother owns an antiques shop. Lane is raised very strictly to the Korean way of life, and her parents expect her to not date anyone that isn't going to be a doctor. (Very strict)

Lorelai and Rory spend lots of time at the diner in town called Luke's. Luke Danes runs the place from where his father's hardware store used to be. He dresses in the classic flannels, t-shirts, and jeans. There appears to be a hidden romance between Luke and Lorelai that only the characters can't see.

What makes this show so unique is the bond between mother and daughter. Lorelai and Rory have such a unique relationship, and it is just so amazing to see that they are of course mother and daughter, but more than that is best friends too. The honesty and brutal straightforward way they talk to each other about everything is endearing.


Theme Song
"Where You Lead" performed by Carole King and Louise Goffin
Words and music by Carole King and Toni Stern
Produced by Carole King and Greg Wells
buy it

How to write to the cast:
Person's Name
c/o Gilmore Girls
Warner Bros.
4000 Warner Blvd.
Building 2222
Burbank, CA 91522

Random Facts
Stars Hollow was founded in 1779
Warner Bros. Studio, where the show is filmed, is located in Burbank, CA
Chilton is actually St. Mary's College in Los Angeles, CA