News
---

9.27.06 - TVGuide.com: Opening the night with 15.4 million viewers and surging to 20.4 mil by the end of its 90-minute run, Dancing with the Stars was Tuesday's big winner yet again, with House (14.2 million) and NCIS (13.8 mil) placing second and third in the 8 pm hour. The season premiere of Gilmore Girls, averaging 4.55 million viewers, came in last, but gave CW its best non-Top Model audience to date and actually edged past a Heroes encore in the hour's back half.

9.15.06 - As Michael Ausiello of TVGuide.com says, It's a Gilmore Girls Spoilerganza!

9.13.06 - TVGuide.com: In the first annual MediaVillage TV Fan Awards, which were based on online voting at Jack Myers MediaVillage.com, Lauren Graham won for best female comedy lead.

8.31.06 - Michael Ausiello of TVGuide.com reports that Lauren Graham will appear in a two-episode arc on Studio 60 on the Sunset Strip later this fall playing... Lauren Graham! Apaprently she will be a guest host of Studio 60's fictional SNL-esque show within a show.

8.27.06 - TVGuide.com: Michael Ausiello reports that Lauren Graham and Matthew Perry arrived at Entertainment Weekly's Emmy bash at Republic last night... and while these two have attended events together before, last night they were looking pretty, um, friendly with each other.

8.2.06 - From Michael Ausiello at TVGuide.com: Matt Czuchry will guest star on Veronica Mars on October 24th as Charlie Stone, half brother to Logan Echolls. Logan's playing Logan's brother! :)

8.2.06 - Variety.com reports that Amy Sherman-Palladino has landed a pilot at Fox. No studio is yet attached to the project, which is a half-hour dramedy that will revolved around two estranged sisters who reunite after one of them agrees to carry the other's baby. Sherman-Palladino will write and exec produce the pilot; she may direct.

7.24.06 - Michael Ausiello of TVGuide.com has read the script for the first Gilmore Girls episode of the 7th season and has something to say about it.

7.18.06 - Read Michael Ausiello's blog from the Gilmore Girls session at the CW press tour, and his later interview with David Rosenthal.

7.6.06 - Zap2It.com: A 'Gilmore' Breakup - Bledel, Ventimiglia end off-screen relationship Following the end of their on-screen romance, "Gilmore Girls" star Alexis Bledel and former co-star Milo Ventimiglia have split up. More...

7.5.06 - Don't miss Michael Ausiello's recent interview with Milo Ventimiglia, in which Ventimiglia confirms that he is single, and that Jess won't be coming back to Gilmore Girls.

6.15.06 - Gilmore Girls was nominated for a Teen Choice Award for Choice TV Show: Comedy/Musical. In addition, Alexis Bledel received a nomination for Choice TV Actress: Comedy. Teenagers can vote at TeenPeople.com, which has sponsored the balloting for several years, and at several sites owned by FOX parent News Corp.: MySpace.com, IGN.com and FOX.com. The awards will be handed out Aug. 20 on FOX, and teenagers can vote for the winners through Aug. 11. The nominees announced Thursday constitute "Wave One" of the process, with two more to come in the weeks leading up to the awards.

6.15.06 - Gilmore Girls was nominated for a Teen Choice Award for Choice TV Show: Comedy/Musical. In addition, Alexis Bledel received a nomination for Choice TV Actress: Comedy. Teenagers can vote at TeenPeople.com, which has sponsored the balloting for several years, and at several sites owned by FOX parent News Corp.: MySpace.com, IGN.com and FOX.com. The awards will be handed out Aug. 20 on FOX, and teenagers can vote for the winners through Aug. 11. The nominees announced Thursday constitute "Wave One" of the process, with two more to come in the weeks leading up to the awards.

6.12.06 - Last Kristin from E!Online heard, Alexis Bledel and Milo Ventimiglia were no longer a couple.

6.7.06 - TVGuide.com: Lauren Graham Speaks! - Don't miss Michael Ausiello's interview with Lauren Graham.

5.31.06 - Lauren Graham was nominated for a Television Critics Association award for Individual Achievement in Comedy. The awards will be given out on July 23rd.

5.24.06 - In the wake of Everwood's cancellation by CW, ex-Everwood producer Rina Mimoun has joined Gilmore Girls as a consultant.

5.18.06 - It's official! Gilmore Girls will be back next year on CW and will air on Tuesdays paired with Veronica Mars.

5.17.06 - While CW's official schedule doesn't come out until Thursday, the folks at TVGuide.com say that it looks like we'll be getting another season of Gilmore Girls.

4.20.06 - TVGuide.com: Ausiello Report My fellow Gilmore Girls fans, the news we've all been dreading has now been made absolutely, 100 percent, painfully official: Series creator Amy Sherman-Palladino has opted not to renew her contract and will be leaving at the end of the season — and she's taking husband Dan with her.

"Despite our best efforts to return and ensure the future of Gilmore Girls for years to come, we were unable to reach an agreement with the studio and are therefore leaving when our contracts expire at the end of this season," said Amy and Dan in a statement. "Our heartfelt thanks go out to our amazing cast, hard-working crew and loyal fans. We know that the story lines from this season will continue into the next, and that the integrity of the show will remain long after we leave Stars Hollow."

(Crickets)

Yeah, I'm speechless, too. I've had more than a week to mentally prepare for this outcome — heck, I even wrote a story and watched helplessly as it was accidentally pushed live for a brief period last Wednesday — ut I still can't believe they're actually leaving. The thought of Gilmore Girls heading into what is likely to be its final season (and its first on a brand-new network) without its mama or her right-hand man is unfathomable. But it is happening. And it's a total bummer.

I won't know for sure why they're bolting until I actually ask them (hopefully in the next few days), but as I reported on Friday, the primary sticking point was apparently the length of Gilmore Girls' renewal. AS-P wanted a two-year pickup, a demand that Warner Bros. refused to meet since Lauren Graham and Alexis Bledel are only on board for one more year. Instead, the studio was ready to pay them just shy of $5 million for a one-year deal, an offer that was apparently good enough to refuse.

According to a statement released by Warner Bros., "While we are disappointed that Amy Sherman-Palladino and Dan Palladino have decided not to stay with the show next season, we are very confident that Dave Rosenthal, an experienced writer/producer with the show, will make the transition seamless moving into the seventh year of Gilmore Girls. We want to thank Amy for creating and nurturing this wonderful series for the past six years and giving us one of the most memorable mother/daughter relationships in television history."

(Crickets)

For now, I leave you with this quote from Graham, given to me around this time last year when it looked like the Palladinos might not return this season. I think she sums the whole thing up pretty well:

"I think it would be terrible [if Amy and Dan left]. We've had our ups and downs, but it's not a show that has ever had anyone else with the vision that she and Dan, who really are a force together, have. You can feel when someone else is trying to write Gilmore Girls-ish dialogue, you can just feel that it's... I know some people think that we talk too much, or the tone is not for everybody. Sometimes I just want to take a breath or have a reaction shot. I get it. But this is the person who is telling the story. So someone would be stepping in trying to replicate that, and I just think it's a bad idea."

(Crickets)

4.19.06 - TVGuide.com: Ask Ausiello The plot thickens: At the wrap party last Thursday, Amy did not make her traditional speech. I don't know about you, but if I were about to leave the show that I created six years ago, I'd probably have something to say. Maybe she was too busy admiring the humongous cake, which, according to my spies, was a replica of Stars Hollow.

4.14.06 - From TVGuide.com - The Ausiello Report - Gilmore Girls Crisis Update

There's still no news.

Although there's nothing official to report, the rumors are spreading faster than hummus on a toasted whole wheat bagel. Here's the latest:
As early as Tuesday morning, it appeared as if Team Palladino was going to announce their departure. But then a funny thing happened as I sat by my phone waiting for the official word: absolutely nothing. That prompted speculation that either the Palladinos or Warner Bros. Television had blinked.
How certain did it look that they were going to bolt? Well, yours truly went ahead and wrote an exit story and was prepared to push it live on TVGuide.com at a moment's notice. Or, more accurately, at a premature moment's notice. You see, due to a technical glitch, the piece accidentally went live early Wednesday morning, causing mass hysteria in the Gilmore fan community. Luckily, my colleague Angel Cohn immediately caught the gaffe and pulled it down before I killed anyone (or anyone killed himself... I think).
Sources close to the negotiations say Warner Bros. is offering Team Palladino just shy of $5 million for a one-year deal, a pact one insider describes as "unprecedented." (The studio had no comment.)
Team Palladino apparently wants Warner Bros. to give Gilmore Girls a two-year renewal, which would carry the show through an eighth season. Seems plausible considering what AS-P told me just last month: "The studio is floating the concept that maybe next year is the last year," she said. "Frankly, I've heard that line the last four years in a row, so to me it doesn't mean anything." There's just one problem: The show's leading ladies, Lauren Graham and Alexis Bledel, are only contracted through a seventh season.
A source close to the show says AS-P informed individual cast members this week that she was planning to leave. (Gilmore Girls wrapped production for the season on Wednesday.) "They had the typical end-of-year group picture [Tuesday] night with the cast and crew," says an on-set spy. "Amy was very emotional."
It's no secret that fans aren't pleased with the Palladinos' handling of Gilmore Girls this season. Even so, the majority of them can't imagine Stars Hollow without Mom and Dad. "I've had a lot of problems with the story lines this season," wrote Kelly, "but I want to see how Amy and Dan plan on playing it out, rather than them leaving a mess for someone else to clean up." Sara added, "I might not be happy with every story line this year, but I still trust Amy."
4.13.06 - TVGuide.com - Ask Ausiello No decision has been made as to whether Amy and Daniel Sherman-Palladino will be returning for the next season of Gilmore Girls or not. As I understand it, both sides — Team Palladino and Warner Bros. — are still trying to hash out a deal that would bring them back next fall for a seventh season. But I'd be lying if I told you there weren't some really scary moments yesterday. The situation is extremely fluid, but rest assured that the moment I have something definitive to report — no matter what the hour — I will post an update on The Ausiello Report. I am on this story like Emily on the rocks.

4.7.06 - TVGuide.com - The Ausiello Report: 24 Star Rejoins Gilmore Girls Chloe is a traitor! OK, that's not exactly true, but 24's Mary Lynn Rajskub is consorting with the enemy, guest-starring on the May 9 season finale of WB's Gilmore Girls. More...

4.5.06 - Alexis Bledel has been nominated for an Alma Award for Outstanding Actress in a Television Series, and Liz Torres has been nominated for an Alma Award for Outstanding Supporting Actress in a Television Series. The National Council of La Raza's Alma Awards ceremony, hosted by Eva Longoria, will be aired on ABC on Monday, June 5th, at 9:30pm ET.

3.29.06 - An excerpt from a TVGuide.com interview with Milo Ventimiglia:

TVGuide.com: Lastly, you squeezed in a Gilmore Girls return, airing April 11. What compelled you to do that?
Ventimiglia: It fit with my schedule. They asked if I wanted to come back, and I said sure. It's always fun to go back and see the crowd.

TVGuide.com: What plot point is Jess serving?
Ventimiglia: Does Jess ever really serve plot points? [Chuckles] I think he did a little the last time, in getting Rory thinking about her ex-boyfriend. [This time] I pop in, I have a nice scene with Scott Patterson, and I have a good scene with Rory, Alexis Bledel.

TVGuide.com: Does it go without saying that your dance card is too full to ever go back to Gilmore full-time?
Ventimiglia: I wouldn't do it. It's not that bad to go back and forth once or twice a year, but I couldn't go back to [being a] regular.

TVGuide.com: So leave us with this: Who is the better match for Rory, Logan or Jess?
Ventimiglia: I really used to like Logan, but he's been kind of an a--hole. [Snickers] I think it has to be Jess or somebody else.

3.28.06 - Lauren Graham has been cast opposite Steve Carell in the movie "Evan Almighty." Michael Ausiello of TVGuide.com reports that Graham is apparently one big ball of sunshine these days. That is, when she's not falling over dead. For the past two weeks, she's been flying back and forth between L.A. and the Evan set in Virginia. And don't ever let it be said that Warner Bros. Television doesn't value their No. 1 asset. Gilmore's production schedule has been completely dismantled in order to accommodate her insane sked, and that includes shooting on weekends.

3.13.06 - The March 13th issue of TV Guide magazine gives Cheers to the Emmys for making a much-needed change to the voting procedure. Nominees for best comedy and drama and the major acting categories will now be determined by a blue-ribbon panel rather than the entire membership of the Academy of Television Arts & Sciences. This should clear the way for the same tired old nominess (The West Wing, again?) to be replaced by fresh—or at least long-overlooked— blood. We've got two words for you: Gilmore Girls.

3.10.06 - The Ausiello Report at TVGuide.com: Gilmore Finale Goes "Pow! Bang! Ouch!" Michael Ausiello interviews Amy Sherman-Palladino and gets some scoop on the season finale and what we can expect come next fall.

3.3.06 - Kristin at E!Online: A Gilmore's Best Friend He has sold more than 51 million records, and he wrote Frank Sinatra's "My Way" and the Tonight Show's theme song. So, is it wrong that when I hear the name Paul Anka, I immediately think of Lorelai Gilmore's dog?

Apparently, I'm not the only one. "I got a lot of calls when I was on tour," Mr. Anka says on the set of Gilmore Girls. "Everywhere I'd [go], the younger demographic [would yell], 'How's the dog?!' so every week I would kinda peek in and check out [the show]. It's cool." So cool Anka (the human one) couldn't resist working with his canine counterpart on an upcoming episode of Gilmore Girls. "I have a dream that Paul Anka and Paul Anka meet," explains Lauren Graham. "It's very surreal," Especially when he sits on Babette's (Sally Struthers') lap.

Lauren insists there's no underlying meaning to Lorelai's dream. It's just an excuse to get her idol into a scene, and she defends her mutt's moniker. "Lorelai loves Paul Anka. Like, why is Jennifer Garner's dog named Martha Stewart? It's your opportunity to pay homage to people you're a fan of."

Thankfully, Paul Anka's first encounter with the canine Paul Anka went well. "I met little Sparky today. It was a very warm moment. He started to lift his leg, and the drama was deep, but I just kinda went with it."

2.24.06 - Michael Ausiello of TVGuide.com reports that Matt Czuchry has sealed a deal to return for the show's seventh (and likely final) season. Czuchry is committed to appearing in at least 13 of 22 episodes, the same arrangement he had this season.


2.17.06 - Milo Ventimiglia has joined the cast of the NBC pilot Heroes.

2.13.06 - Gilmore Girls is featured in this week's Watercooler section of TV Guide magazine. Gilmore Girls Fight! Rory shouting at her grandparents about her dad paying for Yale. Lorelai defending Rory's honor. So what was different about this dinner at the Gilmores'? It was geniusly captured by fast-paced hand-held cameras documenting each character's point of view as they tore into one another, revealing 21 years' worth of dirty Gilmore laundry. From salad to main course to sorbet, this dinner was deliciously served. And for dessert? Our new favorite Gilmore quip. While recounting a story about Rory's boyfriend's snooty mom, Grandma Emily says, "I wish I'd remembered to call her a cocktail waitress." To which Lorelai cracks: "That's my mother's version of the C-word." Me-ow!

2.12.06 - Yahoo! News: 'Gilmore Girls' Feud Upset More Than Fans This season's "Gilmore Girls" story line where the normally tight mother-and-daughter team of Lorelai and Rory feuded and gave each other the silent treatment caused some sharp arguments among the show's rabid fans. Turns out there were some divisions on the set, too. More...

1.24.06 - Warner Brothers and CBS Corp. announced plans Tuesday for the creation of a new broadcast television network, called CW, that would replace the WB and UPN networks in the fall of this year. The new broadcast network will draw on programming from both WB and UPN, and will be a joint venture between Warner Bros. and CBS (Research), with each company owning 50 percent, officials of both companies said. More from CNN.com

12.30.05 - Lauren Graham gave one of the great performances of 2005 according to the December 30th issue of Entertainment Weekly: It wasn't easy suffering through eight looong Gilmore Girls episodes in which TV's chattiest mother-daughter team gave each other the silent treatment. But one thing helped us survive: Lauren Graham's performance as wounded mom Lorelai, who somehow managed to carry on the show's trademark banter solo while heartbroken over good kid Rory's decision to drop out of Yale.

Estranging Gilmore's core characters could've proved disastrous, but Graham's ability to play the funny and the touching—a skill she hasn't used as much in less complex seasons—made it work. After failed TV projects ("I kept playing the bland friend, and my line was like, 'Let's go for a sandwich!'"), the 38-year-old actress is reveling in running her motormouth. "I can't really imagine a better character for me," she says, it should be noted, at full Lorelai speed.

But it hasn't been easy—for Lorelai or Graham. Take the Nov. 8 episode, in which Lorelai obsesses over her dog's illness. "I'm not a fan of working with the dog to begin with," Graham says, "but the payoff is that I say I'm a terrible mother. To make that emotionally meaningful when I'm talking about a dog was hard." —Jennifer Armstrong

12.21.05 - Michael Ausiello at TV Guide reports that David Sutcliffe will be reprising his role as Christopher for at least five more episodes this season.

12.19.05 - Ask TV Guide: I was watching Gilmore Girls and they had a town meeting, but Taylor was running it. We knew Jackson hated the job, but how did Taylor get his job back? —Simone
According to the show's creator, Amy Sherman-Palladino, Jackson hated the job so much that he just gave it back to Taylor, who of course covets the spotlight. This transfer of so-called power never appeared in an episode, though. Just one of those Stars Hollow things.

12.8.05 - From Michael Ausiello at TV Guide: All signs are pointing to a seventh (and likely final) season of Gilmore Girls. Scott Patterson, aka Luke, has extended his contract for another season. Leading Girls Lauren Graham and Alexis Bledel are already onboard for Year 7, so that leaves husband-and-wife show runners Amy Sherman-Palladino and Dan Palladino as the only key holdouts.

12.7.05 - From Michael Ausiello at TV Guide: There's little doubt Gilmore will be back in the fall. Not only is it, like, 13 viewers away from eclipsing Smallville as WB's most-watched show, but Lauren Graham and Alexis Bledel are already contracted for a seventh year. And guess who's also on board for next season? Scott frakkin' Patterson. That's right; reliable sources tell me his deal just closed. Now, the only question is whether Team Palladino — whose pact expires in May — will be at the helm of what is widely expected to be the show's farewell season. My gut tells me Amy and Dan will be back, albeit in a somewhat reduced capacity since they'll be juggling both GG and their new, as-yet-untitled, Big Apple-based romantic comedy.

12.7.05 - Lauren Graham has been cast in the big screen comedy "Because I Said So," which starts filming next week in Los Angeles. She will be playing daughter to Diane Keaton, and her sisters will be played by Mandy Moore and Piper Perabo.

12.2.05 - From the December 2nd issue of Entertainment Weekly: From Rock to Rory 'Gilmore' Guys Who loves hirsute rockers? We do! So imagine our joy when the Nov. 22 episode of Gilmore Girls teamed up ex-Brian Jonestown Massacre tambourine player Joel Gion with ex-Skid Row singer Sebastian Bach (a regular in Gilmore's fake band Hep Alien) for a parody of the 2004 Sundace-winning documentary DiG! A couple weeks after the shoot (reenacting the film's Viper Room fight scene between BJM and fellow indie popsters the Dandy Warhols), the pair reminisced... about a lot of things. &mdashWhitney Pastorek

Gilmore Girls is known for its obscure references. Joel, had you seen the show?
GION I knew Dan [Palladino, Gilmore's executive producer] had written some of Family Guy, which I'm a fan of, so I thought, Oh yeah, that'll be fun.

Sebastian, had you seen DiG!?
BACH Absolutely! I have the Sundance Channel. I lived kind of my own DiG! about 20 years ago, jumpin' into the crowd and beatin' the hell out of people.
GION You sure did, my brother.
BACH After we filmed, Joel and I commiserated about that in my trailer over a couple bottles of red wine. And we discussed his budding movie prospects. He's totally hilarious and a scene-stealer, if I do say so myself.
GION Right on, my brother. We gotta get this together, man. The new Martin and Lewis!
BACH My leg's still screwed up from our episode.
GION Sorry to hear that, man!

What happened?
BACH I was all excited to re-create the fight from DiG! And I was like, I don't need no stuntman, dude! And I tore a bunch of ligaments in my left knee. It's rock & roll. It's okay. I'm on Motrin.

You're both known for you hair—Sebastian, for your long locks, and Joel, for your sideburns...
GION We're the Planet of the Hairdo Apes!
BACH Good one!

You were both in hard-partying bands...
GION Oh no [groaning].
BACH I think I need a couple more pages for my party stories.

Joel, did Brian Jonestown learn anything from the hair metal era about how to party?
GION Just to up the doses, man.
BACH Killer!

12.2.05 - From the December 2nd issue of Entertainment Weekly: After 'Gilmore' Is the show's creator abandoning her Girls? Well, we've got good news and bad news: Amy Sherman-Palladino and her husband, Dan Palladino—the masterminds behind megaliterate family whirlwind Gilmore Girls—have scored a six-episode commitment from The WB for their new project, an hour-long update of a Tracy & Hepburn/Nick & Nora relationship. "We wanted to do that witty, snappy, ain't-life-grand kind of couple," says Amy. "They've created this lovely universe for themselves...[but] real life is trying to encroach on their perfect little bubble." The series will be shot in New York—Amy says the couple will live in the Dakota or, barring that, the "Flakota." And while no casting decisions have been made as to the super-rich late-twentysomethings, whoever they are must chew on the pair's trademark motormouth dialogue (if they're going for a Thin Man thing, we can only imagine).

As for Gilmore? "[It's] definitely going on for at least one more year," says Dan, but neither could confirm whether they'd be going on with it. Oh. That part was the bad news. —Whitney Pastorek

12.2.05 - Kristin at E!Online says that it is starting to look like this might be the last season of Gilmore Girls. Amy Sherman-Palladino is not on board for next season, and she believes that perhaps some of the someones attached to the show might feel it's time to let it go.

11.28.05 - When asked by Michael Ausiello of TV Guide whether Milo Ventimiglia might be back on Gilmore Girls anytime soon, Amy Sherman-Palladino responded: "I hope so. Milo is taking over the world. He's his own little conglomerate. He has more meetings than I ever had in my whole life. The boy does nothing but take meetings. So, we're just playing it by ear. The door has always been open to Milo and always will be because we just love him to death."

11.28.05 - According to The Hollywood Reporter, Milo Ventimiglia has been cast as Rocky Balboa Jr. in the upcoming sixth "Rocky" film. He assumes the role from Sylvester Stallone's real-life son, Safe, who played the part in "Rocky V."

11.12.05 - Zap2It.com: Padalecki Plays it Cool for 'Supernatural' As Sam Winchester, one of the reluctant heroes of The WB Network's Tuesday hit "Supernatural," Jared Padalecki spends his time crossing the United States in search of things that go bump in the night. More...

11.9.05 - From Michael Ausiello at TV Guide Online

MA: Why haven't Luke and Lorelai said "I love you" to each other?
AS-P: To me, they say "I love you" to each other every single day. Everything that they do, the way they care for each other, the way they take care of each other.... "I love you," for me, is a tricky phrase on television because I think it's way overused, as it is in life. I think they constantly button scenes with, "I love you." "I love you, too." "I love you, Mom." "I love you, Butchy." "I love you, Johnny." "I love you, Fluffy." There's just nothing but I love yous and so little goes behind it. And part of what I love about Luke and Lorelai is they don't do that. They just love each other. They just take care of each other. They just support each other. They do everything that you're supposed to do and they don't have to say "I love you" 100,000 times. And when the words finally come out and when we feel like we actually need to write them down, it's probably going to come at a very odd time.

MA: Do you understand why fans want that moment?
AS-P: You know, the fans really need to just relax. (Laughs) I don't know. I guess maybe. I've always enjoyed certain things, like Buffy. My all-time... my life couldn't exist without it. But the way Angel and Buffy said "I love you" to each other, it was always sort of hidden and buried in the context of something else. It was never about, 'Oh, tonight's the moment when Angel says "I love you!"' You just knew that he loved her and you just knew that she loved him, and to me that was so much more satisfying as a viewer. It's just a thing for me. I enjoy actions speaking louder than words.

10.21.05 - Zap2It.com: 'Gilmore Girls' Gets Lots of Sweeps Visitors change of street names in Stars Hollow doesn't seem to be affecting the ability of past residents and visitors to find the place, at least not during November sweeps. "Gilmore Girls" will welcome back a couple of familiar faces, plus a top-secret new one, during sweeps. More...

10.17.05 - Zap2It.com: Former Secretary of State Visits 'Gilmore Girls' - "Gilmore Girls," the only show on television to have featured both literary giant Norman Mailer and Skid Row frontman Sebastian Bach as guest stars, is adding another feather to its casting cap. Former Secretary of State Madeleine Albright will make a cameo appearance on the show Tuesday, Oct. 25. More...

10.12.05 - For anyone who hasn't heard yet, Kristin at E!Online reports that Lauren Graham is dating Marc Blucas, best known as Buffy the Vampire Slayer's ex-boyfriend from college, Riley.

9.11.05 - The September 11th issue of TV Guide gives cheers to the 2005 Teen Choice Awards for giving Gilmore Girls its due. The youthful voters honored the perennially underrated WB series as TV's best comedy and Alexis Bledel as best comic actress. In addition, Lauren Graham won for "Choice TV Parental Unit." Wake up, Emmys–teenagers have better taste than you do.

8.21.05 - In an article on TV's Top 10 Scene Stealers in the August 21 issue of TV Guide Liz Weil is #10 as Paris Geller, Rory's ultracompetitive Yale roomie on Gilmore Girls. We love her because: Her hysterical self-involvement can be oddly endearing, and her nastiness nicely balances some of Rory's sappy self-reflection. Where you've seen her before: As an intern who leaked a White House staffer's addiction to the media on The West Wing. But did you know: After Weil lost the role of Rory, producers promised that they'd write a part for her. "[When I read the script] I was like, 'Oh, my God, is this how they see me?!'" She says: "I had a mediocre academic career, so this is fun for me. I'm constantly learning stuff now that I didn't know before!"

8.15.05 - At the 2005 Teen Choice Awards this past weekend, Gilmore Girls was named best TV comedy and stars Alexis Bledel and Lauren Graham won best actress and best parental unit respectively.
| | |
| --- | --- |
| | James Devaney/WireImage.com |
6.02.05 - E!Online: Battle Dress - Gilmore Girl Alexis Bledel is ready for action at The Late Show with David Letterman in New York. But even her trendy buttoned-up and securely belted army fatigue jacket can't camouflage the lovely, long, lean limbs under her sexy, sheer rust chiffon skirt. Man, if only this was what increased military spending got us! -->

Alexis Bledel
by Jemal Countess/WireImage.com
5.31.05 - TV Guide Online: Ahoy, Rory! At a Planet Hollywood appearance for Sisterhood of the Traveling Pants, Alexis Bledel reveals there's a sexy woman beneath the preppy Gilmore girl. We just wonder what Emily would say about the pirate boots. -->

5.25.05 - Zap2It.com: Cast Ready to Slip into 'Pants' Sequel - The stars of "The Sisterhood of the Traveling Pants" say they'd jump at the chance to film a sequel, but they'll have to wait and see about slipping back into their comfy, denim-clad roles. "We had fun," Alexis Bledel tells Zap2it.com during an interview at the Park-Hyatt Hotel in Los Angeles. "We were just talking in the hallway that we would look forward to doing another." More...

5.18.05 - Michael Ausiello of TV Guide reports that when he was on the Gilmore Girls set in March, Scott Patterson informed him that, unlike Lauren Graham and Alexis Bledel, who are under contract for two more seasons, his deal expires at the end of next season — the show's sixth. "I'm out after six," he said. "[My staying] depends on several key factors that I'm not at liberty to discuss. It's definitely not a certainty [that I'll stick around]. I'd like it to all work out. I'm thinking positively, but we'll see. The next few months will be crucial in that decision-making process." As loyal readers of Ausiello's column know full well, everyone (Lauren, Alexis, Amy Sherman-Palladino) would like to see the show go for seven seasons. Could Patterson really envision Luke going AWOL during GG's final year? Sadly, he could. "I don't think Luke and Lorelai are the end-all and be-all of Gilmore Girls," he confessed. "I think it would survive without me. It's not really up to me, actually. I can't say anymore than that. I probably said too much already."

So what's a dogged reporter to do when an actor clams up just as he's about to get to the good stuff? He goes over said actor's head and gets his boss to fill in the blanks. And fill them in she did. "Scott is not just one of the town anymore," says exec producer Amy Sherman-Palladino, all but confirming that money is the sticking point. "He's become very, very, very, very — how many verys can I put? — important to the show, and I think everybody knows that.

"Contracts are a tricky, funny thing," she adds. "It's a business. The one thing I can say is I don't think anybody — studio or network — does not know how valuable he is. I don't anticipate there being any problem, because I think that, at the end of the day, you gotta make a show, and somebody's gotta pay for somebody to show up. I would be very surprised if a seventh year came and we didn't have Scott Patterson on the show. I'd be kinda stunned."

5.17.05 - The WB announced their fall schedule today, and Gilmore Girls will remain in its Tuesday 8pm ET time slot.

5.13.05 - Danny Strong (Doyle) will be at EnigmaCon 2005, May 28th, 2005 at the University of California, Los Angeles. UCLA's Enigma club combines Science Fiction, Fantasy, Horror, Gaming and Real Science to bring a day of movie screenings, panels, vendors and gaming to the UCLA campus to benefit tsunami relief efforts. Other guests include author Harlan Ellison, writer/producer J. Michael Stracynski, Elfquest artist Wendy Pini, and many, many more from the fields of movies, video game development, comics, etc. etc. For more info, check out http://www.enigmacon.org.

4.28.05 - Milo Ventimiglia has been cast in a new show for the WB called The Bedford Diaries, which is set in a human sexuality class at a New York City college. Also cast are Ernest Waddell, Penn Badgley, Matthew Modine (as the class professor, Audra McDonald, and newcomer Victoria Cartegena as a scholarship student.

4.26.05 - After lengthy negotiations, series creator Amy Sherman-Palladino has inked a deal to return next season as show runner, sources confirm. The pact, finalized last week, also calls for her hubby, Dan Palladino, to continue on as co-executive producer for what would be Gilmore Girls' sixth season. The show has not officially been renewed for a 6th season yet, but no one is really worried.

4.26.05 - From TV Guide Online: Girl Talk with Alexis Bledel

by Michael Ausiello

Every time we think Gilmore Girls can't possibly surprise us again, the beloved WB dramedy (Tuesdays at 8 pm/ET) goes and does just that. And so, for that matter, does its cast. Take, for instance, Alexis Bledel. This year, the 22-year-old ingenue took her character, virginal brainiac Rory, from all-night cramming sessions to one-night stands, got herself cast against type as a Sin City hooker and, in this TVGuide.com interview, gave up a rare insight into her real-life romance with her former leading man, American Dreams heartthrob Milo Ventimiglia. What will she possibly do for an encore? Read on and find out!

TVGuide.com: What do you think of the new, sexual Rory?
Alexis Bledel: It's been different. I hope that it's more about relationships than it is about just her being slutty.

TVG: Since you have such great chemistry with Matt Czuchry (Logan), I'd say that's a given.
Bledel: I think our scenes are turning out well. He's stuck around for a while, so that's a good sign. I think it's cool just to see a fresh, new relationship with all of its problems and complications.

TVG: Everyone's talking about the show's big resurgence this season. Do you feel it on the set?
Bledel: Yeah, it seems refreshed. It's felt that way for me, especially, because we have all these new young kids coming in for the college scenes. That's really fun for me, because for a long time, I was the youngest person by far. It's a lot of new blood, new energy coming in.

TVG: How do you feel about doing the show for a couple more years?
Bledel: It's very all-consuming. While it's certainly positive that they would want to continue the show for a couple more years, we're probably closer to the end than we are to the beginning. And for me, personally, it's exciting to think of how much my life will change when the show does end. When you are on something like this for so long, and it's so all-consuming, it's just exciting to... [Pauses thoughtfully] I like change. So that prospect excites me, whenever that may be. But it's not in my control at all when it'll be.

TVG: Actually, it kinda is. Your contract is up in two years, so you could either quit or stay and do both the show and movies.
Bledel: That's a decision I'll make at that time, if it's a possibility. I have no idea, because I don't even know if we'll be lucky enough to do a seventh year. It's sort of year by year with television, so I think, as it gets closer, it'll be easier to decide.

TVG: Speaking of movies, you play a prostitute in Sin City. Did you worry at all that you might alienate your younger fans?
Bledel: I used to worry about that [kind of thing] when the show first started. But my perspective is that when you're a kid, if your audience is a group of children or teenagers, you do have some level of social responsibility. I feel that. But other entertainers will say that that's not their responsibility, and I can see how they might feel that way as well. But I sort of feel like once [your character is] 18 and moves on to college, you sort of decide what you do. You [as an audience] can sort of decide how you feel about people and their choices from there, but they're their choices once they're 18. So I think it's OK at this point — especially with the way the show's gone this year.

TVG: Let's talk a little bit about your relationship with your TV mom. How do you and Lauren Graham get along when the cameras aren't rolling?
Bledel: Well, we had just met when we went straight to shooting — we didn't know each other at all! But she was very patient with me, because I didn't know what I was doing, and she was always helping me out to get through the day. She was always very respectful of me and very much on my level... much more of a peer than trying to be a parent or anything like that. Now it's leveled out, and we really are like peers.

TVG: In other words, it's more like a friendship.
Bledel: It's happened more as we've gotten to know each other more. We have hung out outside of work, and it's fun, but we see each other so much at work that it's almost like if we hung out outside of work, we'd hang out all the time! We'd never be apart.

TVG: That would certainly cut down on the time you have available to spend with your boyfriend, Milo Ventimiglia (ex-Jess). How's that going, by the way?
Bledel: [Laughs nervously] It's going good.

TVG: I know you don't like to discuss your personal life.
Bledel: It's just, the articles I read when I was younger, they said the only way [a Hollywood romance] works is if you don't talk about it, and I agree with that. And also, it's your stuff, and if you share things that are too personal with a magazine or with your public, it's sort of like it's not really yours anymore, it's shared information and it's not special to you anymore. I don't like that. I think people with personalities who like to talk about what's going on in their lives, they'll talk without really knowing how it's going to come back and bite them, and generally, it does. And luckily, I have the kind of personality where I am extremely private. I don't really like to tell everyone my business. I'd much rather people wonder or not know.

TVG: Is Milo on the same page with that approach?
Bledel: We're both fairly private about our personal lives. I don't really talk about it, because relationships are so personal, but they're also so fragile. They're so ever-changing — people are constantly evolving within their relationships. You may always be together, but the way you feel on a day-to-day basis, it either stays the same or it changes, and I don't usually talk about it.

TVG: Enough said.

4.8.05 - TV Guide Online: Lauren Graham Dishes Girls, Guys

by Michael Ausiello

If there's any justice in the world, come September, Gilmore Girls leading lady Lauren Graham will be standing on stage at the Shrine Auditorium clutching a certain gold statue with sharp, pointy wings. Of course, when it comes to the annual Emmy derby, justice can be an elusive thing — and that's particularly true for WB stars. "Lauren should have been nominated 110 years ago," asserts Gilmore's creator, Amy Sherman-Palladino. For her part, the 38-year-old actress prefers not to dwell on such matters, insisting, "Most of the positive stuff that's happened to me has just dropped out of nowhere." Well, there's certainly been a lot of positive stuff going on in Stars Hollowland this season, thanks in large part to the long-awaited romance between Graham's Lorelai and Scott Patterson's Luke. During a shooting break on the show's Burbank, Calif., set, Graham opened up about Girls' current creative and ratings resurgence, life after Lorelai and her controversial comments about would-be spoiler Christopher.

TVGuide.com: The show is on fire this year. Are you happy with the new, romance-driven stories?
Lauren Graham: To me, the juiciest stuff, the scenes I love the most, are the ones within the family. I love the relationship between Kelly Bishop (Emily) and Lorelai. That relationship is as essential as the Lorelai-Rory relationship. We have two mother-daughter stories and those are, to me, the core of the show.

TVG: And what about Luke and Lorelai?
Graham: It's been fun to have Lorelai in a relationship. I always thought that [Lorelai] is someone whose development was arrested as a teenager, having been faced with raising this child and going off on her own. It made sense to me that she was sort of immature in terms of being able to handle men. But you want to see growth and development, so this relationship makes sense. I'm not sure where it ends up. Is this a three-year story, a four-year story...? Is it Luke and Lorelai together? Is it Rory's father, Christopher? Is it Rory and Lorelai holding hands and jumping off a cliff? Is it a wacky double wedding in Paris? I don't know.

TVG: Why haven't Luke and Lorelai said the L-word to one another?
Graham: It's not that it hasn't happened, we just haven't seen it. I assume that they are saying "I love you" to each other, but we just haven't seen it. I remember Amy saying, "We want Luke to be the same, but now you're together." This is how Luke would do it. That's what's appealing about him.

TVG: In January, you raised a bit of a stink when you told me you thought Lorelai belonged with Christopher, not Luke. Fans see it very differently.
Graham: I was speaking in terms of the show's idyllic point of view. I think the wish-fulfillment element would dictate that the family gets back together. But I also think Luke-Lorelai is very appealing.

TVG: Some have speculated that you chose Christopher because you and Scott don't get along.
Graham: No, that's just what I used to feel. [Luke-Lorelai] could be interesting and gratifying. I was more thinking about where the story started. Is the answer her even ending up with a man? I don't really know.

TVG: So, how is your relationship with Scott?
Graham: It's fine. I think these characters have a great chemistry and that does mirror our chemistry as people. We're not intimates. We talk kind of how we talk [on the show]. We work well together.

TVG: But you're not best friends.
Graham: No. [Pause] It's a very happy set. It's a very functioning, working set, and I think some of that is helped by us having a little bit of a life outside. But I'm here an average of 50 hours a week, so there isn't a lot of socializing for any of us.

TVG: How has your relationship with Alexis Bledel [Rory] changed?
Graham: It's mainly from her. She's really grown up. She was a different person when she got here. She got here when she was 19. I hate to sound like her TV mom, but she's really blossomed. She bought a house, she's embraced that [acting] is something that she's good at. When she got here, she didn't know anything; she just had no experience. It's a tough adjustment for anybody. But we have always, always had a really positive time together. And that's something that I really value and really feel proud of. We are a team.

TVG: How long do you see the show lasting?
Graham: I see it going seven [seasons], partially because there are very few TV stories that need to be told beyond that — especially in a drama that's not procedural. In terms of my life, I'd like to be working different hours. I would like to start a family. I would like to shift the balance. It used to be that all I could do was watch Oprah and go to the gym. And now I work these long days and... it has taken a toll.

TVG: How would you feel about going on next season without Amy and Dan Palladino?
Graham: I think, at this point, it would be a terrible idea. We are in a successful time. We've had our ups and downs, but it's not a show that has ever had anyone else with the vision that [they] have — especially if we have two more years. You can feel when someone else is trying to write Gilmore Girlish dialogue... I just think it's a bad idea.

TVG: Amy says she already knows what the last two words on the show's final episode will be. Any guesses?
Graham: We've all been asking her about this. She won't tell me. I'm like, "Is it 'I do?' Is it 'Stop talking'?" Maybe it's "Cats rock!"

TVG: In your opinion, who has been the best extra ever to grace Gilmore Girls?
Graham: [Laughs] Oh, there was this guy from TV Guide once, he had this whole backstory about a hooker and I was like, 'Dude, whatever...' Oh, wait — that was you!

TVG: Good answer!

3.21.05 - While Melanie Griffith has not been locked down into a guest appearance on the show, Amy Sherman-Palladino tells Michael Ausiello of TV Guide that Griffith is game to appear on the show either this season or next, depending on if the scheduling can be worked out. "She's interested and all parties are go. It's a story line we won't do unless we have Melanie Griffith. It's for her."

2.24.05 - A new character, a snooty socialite who causes conflict between Lorelai and Emily, will be introduced in late April. Melanie Griffith is in talks to play her.

1.24.05 - Kristin at E!Online reports that the cast of Gilmore Girls says that it's very likely they will be back for a 6th season.

10.27.04 - Gilmore Girls has been nominated for a People's Choice Award for Favorite Drama, and Lauren Graham has also been nominated for Favorite Female TV Star. You can vote at PCAvote.com until January 9th, when the awards show will air on CBS.

10.26.04 - Kristin at E!Online reports that Lauren Graham and Alexis Bledel say that they expect the show to go at least one more year, but they haven't yet decided.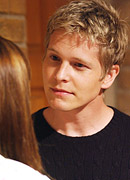 10.12.04 - TV Guide Online: Gilmore Guy's "Snob Mentality"
by Ben Katner
Even before making his Gilmore Girls debut last week, Matt Czuchry knew very well how we would react to his character, Yale sophomore Logan. Not only does the smart-mouthed Ivy Leaguer push the buttons of America's sweetheart, Rory (Alexis Bledel), but his snobbery is rivaled only by that of her persnickety grandmother, Emily.
"I could tell people were going to hate me on sight," the baby-faced 27-year-old shares with TV Guide Online. "Logan is completely unapologetic. He'll go off in the summer and crash Daddy's yacht into a buoy, and his dad will fly him away in a helicopter so he won't have to deal with any of the consequences.
"Obviously, this guy is 180 degrees different from Rory and from her past boyfriends, so how could the audience not be kind of spun out when they see him come on? But," he adds with the snicker of a born pot-stirrer, "that's what we're going for."
To make matters worse for the newbie — or, on second thought, more interesting — his upper-crust counterpart seems hell-bent on coming between our heroine and Marty (Wayne Wilcox), the underdog who's been following her around like a puppy. "I don't think that's going to happen," Czuchry insists. "My understanding is that Dean (Jared Padalecki) is going to be in the picture, but so am I. So [fans] will be p---ed, but hopefully they'll also be like, 'Wow! Man, I hate this guy, but I kind of like him, too!' That's how Rory's feeling."
As if Logan's love of a great debate, resemblance to Chilton kissing-bandit Tristan (Chad Michael Murray) and obvious need for an attitude adjustment weren't enough to make him irresistible to Rory, he will also be able to introduce the small-town gal to some big-time intrigue. "She's not in Stars Hollow anymore!" Czuchry notes wryly. "We just filmed an episode about the secret society that Logan is in. It's different from anything Rory's ever seen, so it's really opening her eyes to a whole new world. The audience is going to love it... and hate it." We believe him. After all, he's been right so far.
10.6.04 - Arielle Kebbel (Dean's wife, Lindsay) will be joining the WB's Grounded for Life in a recurring role as a new girl who moves in next to the Finnerties and stirs things up with their teenage son.
9.28.04 - Kristin at E!Online reports that Jared Padelecki (Dean) had to get extensions, because he'd cut his hair over the hiatus and had to match the exact scene of the season-finale cliffhanger. Ha!
9.13.04 - At Saturday's Creative Arts Emmy awards, Gilmore Girls won its first Emmy ever for best nonprosthetic makeup. Well, it's something.
9.1.04 - A little news from the Canadian front. Robin, a Canadian resident, reports that not only is Global airing Gilmore Girls on Wednesdays at 9pm E/P (current season), but tw other networks are now airing the show in syndication. The first is the cable network W starting yesterday (August 31st), and the second is YTV (Youth Television) starting in October.
8.19.04 - Mädchen Amick (Sherry Tinsdale) is joining the cast of ER this fall as a social worker and love interest for Dr. Carter (Noah Wyle). She'll appear in at least 10 episodes.
8.11.04 - ABC Family has picked up syndicated episodes of Gilmore Girls. The cable channel will launch the show with a 6-hour marathon beginning on Sunday, October 3rd.
7.19.04 - Not really a spoiler, but a quote about the upcoming season that Kristin at E!Online gathered from Scott Patterson at the Television Critics Assocations press tour: "Things are going to heat up with Luke and Lorelai this year, that's for sure. That's about all I can tell you, but the first eight episodes are going to be just--from what I hear from my well-paid sources inside the CIA, who are spying on the production offices of this show and have microfeeds and all kinds of tapes to prove it--the first eight episodes are just fantastic. The network's very excited, and it's all going to be...Forget about American Idol, nobody's going to be interested."
7.15.04 - Gilmore Girls received an Emmy nomination for Outstanding Makeup for a Series (Non-Prosthetic) for "The Festival of Living Art." The awards ceremony will air live on ABC on Sunday, September 19th, from the Los Angeles Shrine Auditorium, and will be hosted by Garry Shandling.
6.17.04 - Warner Bros.' troubled Superman film is once again taking off. According to Variety, Charlie's Angels helmer McG is being eyed to direct the new installment, which could go into production later this year. Roswell's Jason Behr and Gilmore Girls' Jared Padalecki are said to be under consideration to play the Man of Steel.
6.13.04 - The June 13th issue of TV Guide magazine gives Cheers to Gilmore Girls for salvaging an uneventful season with an emotionally tantalizing finale. After Rory lost her virginity to her married ex-boyfriend, Dean, and Luke finally acted on his attraction to Lorelai, the show left us wanting Gilmore.
5.19.04 - The WB confirmed that Gilmore Girls will be returning next year in its Tuesday 8pm ET time slot.
5.7.04 - Jared Padalecki will be back as Dean on a recurring basis next season.
5.2.04 - The May 2nd issue of TV Guide reports 5 reasons why they love the Gilmore Girls first season DVD:
1. Smart talk gets translated
Sixteen-year-old brainiac Rory and her quirky mom Lorelai are prone to dropping such names as Squeaky Fromme and Oscar Levant. Now, thanks to the "Gilmore Goodies" captions, we know who they are: Fromme was one of Charles Manson's girls and Levant a pianist.
2. Chad Michael Murray!
Check out the hunky One Tree Hill star in his first big prime-time role. He plays Rory's rich schoolmate.
3. Meet the real Sookie
According to a documentary on the DVD, Lorelai's best pal was originally played by Mad TV's Alex Borstein, but was later replaced by Melissa McCarthy.
4. Mysteries get solved
How do you get to Stars Hollow? Take Highway 109 north and stop in Washington Depot, Connecticut–this picturesque town was the inspiration for the show's setting.
5. It's a buzz kill
We mean this in a good way. Groups complained about the Girls' coffee intake when the show debuted, but they don't drink that much. The duo downs about 71.5 cups–that's three mugs per episode. But who's counting?
4.28.04 - Kristin at E!Online reports that producers are talking to Jared Padalecki (Dean) about coming back for a few episodes next season.
4.21.04 - The entire first season of Gilmore Girls will be available on DVD on May 4th, 2004. To pre-order your copy from Amazon.com, click here.
4.21.04 - Alexis Bledel has signed on to play one of the four leads in the coming-of-age story "Sisterhood of the Traveling Pants." Based on the novel by Ann Brashares of the same name, "Pants" centers on four teenage friends who must spend the summer apart for the first time. Although they are all different sizes and shapes, they can somehow magically fit the same pair of secondhand jeans perfectly. They decide to circulate these jeans among themselves on their respective vacations as a way to keep in touch. Bledel will portray Lena, who spends the summer in Greece with her grandparents, according to The Hollywood Reporter. She joins the other three: Tibby (Amber Tamblyn), soccer star Bridget (Blake Lively) and Carmen (America Ferrera), who is spending the summer with her estranged family. Jenna Boyd will play Bailey, a terminally ill girl befriended by Tibby. Ken Kwapis ("Malcolm in the Middle") will direct from Delia Ephron's script.

Scott Patterson and
Lauren Graham
by Richard Cartwright/WB
4.20.04 - From TV Guide Online: Gilmore Girls Love Scoop! by Daniel R. Coleridge

Since the WB's airing fresh episodes of Gilmore Girls again, fans need to know: What's next for Lorelai and Rory's love lives? Here, TV Guide Online serves up exclusive dish on their big romantic developments leading up to Season 4's big finale on May 18. "Our season finale will be pretty big for both of our girls," says GG creator Amy Sherman-Palladino. "Big changes are happening. We're shooting it now, and it's really satisfying. We'll leave you in cliff-hanger mode for next year."

First off, it's clear Lorelai (Lauren Graham) and Digger aren't forever material. Notice how she's always distracted by Luke, even when Digger does serious things like offering Ms. Gilmore her own key to his apartment? And isn't it convenient that Nicole cheated on Luke offscreen, leaving him all single?

"We're going to deal with 'Will they or won't they?' [between Lorelai and Luke] a little bit more seriously than we have in the past," Sherman-Palladino promises. "Milo Ventimiglia (Jess) is coming back for two more episodes in May. His mother — Luke's sister — is going to be getting married, and Luke will ask Lorelai to go to the wedding with him. So that's a little somethin' somethin'!"

But back to Jess. As previously reported, the bad boy's coming back to "wrap up" loose ends with Rory, after he dropped the L-bomb on her and skipped Stars Hollow. Expect her other ex Dean (Jared Padalecki) to figure more prominently in the Yalie's future. "He's in about four more episodes, [including] the season finale," Sherman-Palladino reveals. Uh-oh! Just to refresh your memory: Rory's still a virgin, while Dean is married to nice girl Lindsay. Is adultery even an option for these two do-gooders?

"There are two schools of fans out there," the writer says. "One gang is like, 'Keep Rory perfect, chaste and angelic.' The other gang is like, 'Good Lord! She's 19! [Bleep] something!'

I've been yelled at by both sides," she laughs, then adds, "I tell stories that feel right in the moment. It would be pretty hard to hate Rory with her Bambi face. But more than that, it's my responsibility to stay true to this character and what she would do. I don't ever want us to get so scared of doing a bad thing that we just have goodie-goodies walking around, who stay the same person and don't live or learn from mistakes. Sometimes unpopular actions give your characters interesting consequences to deal with."

Oooh, we smell trouble — the good kind — coming for both Gilmore gals. Can't wait!

4.13.04 - From TV Guide Online: Gilmore Girls Kiss Controversy by Daniel R. Coleridge

Tonight's Gilmore Girls — the first fresh episode since early March — finds Rory and Paris on spring break in Florida. While the WB's promoting this as "Gilmore Girls Gone Wild," it's not nearly as wild as some think. Last week's New York Post promised "the butch Paris" will plant a "Sapphic smooch" on Rory that "ranks with the most shocking" same-sex kisses ever on television. Huh?

Did they screen the same preview tape we did? 'Cause it sure looked to us like Paris kisses Rory for half a sec, just to attract notice from the throng of party boys around them. Willow and Tara, they're not. This sitch is more like the silly JC Chasez song that goes: "Some girls dance with women, knowin' that it brings them attention." But hey, you don't have to take it from us...

"I think the Post story is very silly. They're out of their minds," GG creator Amy Sherman-Palladino tells TV Guide Online. "When I read that, I went, 'Seriously?!' For us, it was a playful little joke. There's no tongue, there's no groping. When I [wrote for] Roseanne, they did the big kiss between Roseanne and Mariel Hemingway, and it was about that. This is a joke.

"Rory is this chaste little girl," she adds with a laugh. "She's practically got wings attached to the back of her. To look for the salacious at all on our show, you really gotta look, because we don't do salacious here. It's weird that they would pick up on an innocent kiss between two girls like there's something dirty about it." Diplomatically, she adds: "It wouldn't be dirty if it was two girls who were romantically involved!"

That rightly said, Rory's got boys on the brain as the show heads toward May sweeps. Amid the spring-break festivities, Miss Gilmore gets in touch with ex-boyfriend Dean — which is always awkward, especially since he's married now. "She and Dean are starting to get a little closer," Sherman-Palladino teases. "There's the assumption that his marriage is wrong. Rory thinks they're too young. Everybody thinks they're too young. There's not a lot of hope for intense happiness for a marriage that came out of a rebound, with much too much youth and lack of life experience."

Thus, GG fans can expect Jared Padalecki to return in upcoming episodes as Dean. But don't forget Rory's other ex. Milo Ventimiglia's days as bad boy Jess aren't done just yet. "We're bringing Jess back to finally confront Rory. He's basically been avoiding her; they haven't conversed since he said 'I love you' and got the hell out of Dodge," Sherman-Palladino laughs. "We have to wrap that up, which we will be doing."

4.2.04 - Zap2It.com: Graham, Ford Share Diesel's 'Pacifier' - Lauren Graham and Faith Ford are teaming up with Vin Diesel on his toughest mission ever: childcare. The pair will star opposite the action star in "The Pacifier" for Walt Disney Pictures. The film centers on an undercover agent who fails to protect an important government scientist and then agrees to look after the man's kids when they are suddenly thrust into danger, according to The Hollywood Reporter....

3.25.04 - The March 27th issue of TV Guide give Cheers to Gilmore Girls for creative recasting. At the funeral of judgmental matriarch Gran (Marion Ross), we were introduced to her free-spirited niece–also played by...Ross. She's certainly versatile, but we'll still always remember Ross as Happy Days' "Mrs. C."

3.19.04 - Jared Padalecki rounds out the cast of horror remake "House of Wax," which also stars Elisha Cuthbert (24), Chad Michael Murray (One Tree Hill) and Paris Hilton.

3.10.04 - NBC's The Men's Room (NBC Studios) with John Cho has added Scott Cohen (Max Medina) to the cast.

Arielle Kebell by Rafael
Tongol and Jared Padalecki
by Andrew Eccles/WB
3.9.04 - From TV Guide Online: Gilmore Girlfight!
If we were Gilmore Girls' apparently irresistible Rory, we'd start sleeping with one eye open. Lately, she's been throwing off sparks with old flame Dean. The hitch? He's now hitched to the seemingly sweet Lindsay, played by Arielle Kebbel. "I killed a girl," the up-and-comer admits to TV Guide Online. And she's only half-kidding! "It was on Law & Order: SVU. I killed her, then I lied about it and went on trial."
Chances are, no such fate awaits Lorelai's man-magnetizing daughter. Instead, her continued presence in her ex's life is more likely to sound the death knell for his young marriage. "No matter what I do for him, it's always Rory!" Kebbel exclaims in character. "I make him lunch every single day, I smile all the time... but I'll never be Rory. It becomes this huge tug-of-war over Dean."
Should Lindsay win the battle, viewers still shouldn't look for Kebbel and leading man Jared Padalecki to put down roots in Stars Hollow. "I'm happy to just pop in and pop out," insists the 19-year-old Florida native. "That way, I'm not locked down to this role." (Since her Gilmore debut last season, the Hollywood freshman has completed her first flick, Soul Plane, with Snoop Dogg, and wrapped work on a second, the Get Shorty sequel Be Cool.)
Nonetheless, Kebbel will always be willing to stop by Luke's Diner for a cup of joe. "A lot of my dear friends and even my old teacher's daughters watch this show," she offers, "so it's been really great for me, just knowing I'm a part of a show that a lot of families watch together.
"I can't tell you the number of mothers and daughters who say, 'Oh, my gosh, we lay in bed and watch Gilmore Girls every Tuesday [at 8 pm/ET on the WB]!'" she concludes. "There's something very, very humbling about that."
3.3.04 - The February 28th issue of TV Guide gives Jeers to Gilmore Girls for resurrecting annoying bad boy Jess (Milo Ventimiglia). We hoped we'd seen the last of this James Dean wannabe. But after his planned spin-off never materialized, he came back for a guest stint. Just when you thought it was safe to start watching this show again, it turns into Jess 2: The Revenge.
2.27.04 - Milo Ventimiglia has taken a part in ABC's drama "Gramercy Park," about the residents of a New York apartment building. He'll play the troubled son of a surgeon who returns to his parents' home, girlfriend and new baby in tow. Elizabeth Mitchell ("The Lyon's Den"), Travis Schuldt ("10-8") and Izabella Miko ("Coyote Ugly") will also appear in the pilot.
1.21.04 - From TV Guide Online: Freaky Friday's Lindsay Lohan has signed a deal to star in the film version of the best-selling novel series Gossip Girl. Gilmore Girls creator Amy Sherman-Palladino will adapt the screenplay, so expect lots of witty banter and the occasional non sequitur.
1.17.04 - The January 17th issue of TV Guide gives Cheers to WB for giving Gilmore Girls an early renewal for next season. When Rory started college at Yale last fall, the show underwent some creative growing pains, but now the scripts are back on track. It's good to know that, unlike Rory's mother, Gilmore fans won't be suffering from empty-nest syndrome anytime soon.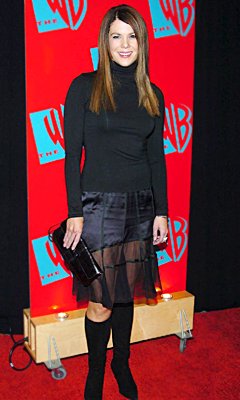 1.14.04 - From TV Guide Online Caught in the Act: Happy Gilmore - Lauren Graham proudly represented her hit show, Gilmore Girls, at the WB Television All Star Party in Los Angeles, Calif.

12.20.03 - From Zap2It.com: Fast-Talking 'Gilmore Girls' Creator Bides Her Time - If you think the title characters on "Gilmore Girls" speak faster than normal, you should listen to their creator. Words tumble out of Amy Sherman-Palladino like an overturned bucket of Super Balls facing downhill, quick and bouncy and sometimes hard to control. She's an interviewer's dream and a copyeditor's nightmare....

12.18.03 - From Zap2It.com: 'Gilmore Girls' Gets Fifth Season - Christmas came a week or so early to Stars Hollow. The WB has decided to pick up a fifth season of "Gilmore Girls," a network spokeswoman confirms to Zap2it.com. The series, which stars Lauren Graham and Bledel as an extraordinarily close mother and daughter, has become one of the Frog's signature shows in its three-plus years on the air. The fifth-season pickup also all but assures the series will pass the 100-episode landmark....

12.8.03 - Kathleen Wilhoite — best remembered for her role as Dr. Lewis's nutty sis on ER — has been cast as Jess's never-before-seen mom (and Luke's sibling) on Gilmore Girls. She first appears in the Jan. 27 episode, which also marks the return of Milo Ventimiglia's Jess.

11.1.03 - From the November 1st issue of TV Guide, under Shows You Can Watch Together: The Gilmore Girls are an exceptional mother-daughter duo, thanks to love and respect

It's the rare dramatic series that takes on a life of its own, growing in depth, breadth and strength as the seasons pass. But this description is undeniably true of Gilmore Girls, the charming, cheeky, chatter-licious WB gem that makes for quality mother-daughter viewing. Few series have treated the parent-child relationship with such wit, intelligence and pathos.

I realize that for some the hook of the show–a glib, best-buddies bond between a mother and teen daugher–can be problematic. "A teenager needs an adult as an authority figure, not just as a best friend," says Elayne Rapping, a University of Buffalo professor of women's studies and an unabashed Gilmore Girls fan.

Rapping believes that it is both a strength and a weakness of the series that Rory, the wise-beyond-her-years Yale freshman, is on equal terms with her free spirit mother Lorelai. But what mitigates this for Rapping–and for me–is that Lorelai's home life with Rory is characterized by unconditional love, acceptance and respect.

Rory reads Flaubert, gives back to the town of Stars Hollow and is ever respectful to Emily Gilmore, her grande dame of a grandmother who never forgave Lorelai for getting pregnant as a teen and going her own way. Emily is the piquant sauce that provides tartness to the show.

"Emily is incapable of approving of her daughter, contrasted with Lorelai, who is non-competitive," Rapping says. "Lorelai really wants Rory to do things she hasn't, and it's a wonderful thing to see two women want the best for each other."

10.21.03 - Kristin from E!Online reports that it seems there's still a little somethin'-somethin' going on between Alexis Bledel and Milo Ventimiglia. They were spotted at two recent concerts: Eddie Izzard and Maroon 5. They were holding hands and kissing and looking very lovey-dovey. Don't know about you, but that makes my day.

10.9.03 - Zap2It.com: Milo Ventimiglia: Neither Bad Nor a Boy - "My manager makes fun of me," says Milo Ventimiglia. "He's like, 'Since you started in the business, you've aged eight years, but on television, you've only aged two or three.' It's a frustrating thing....

10.9.03 - When someone recently asked Kristin at E!Online if Alexis Bledel and Milo Ventimiglia were dating, Kristin revealed that in a recent conversation with Ventimiglia, he revealed that he does have a girlfriend, but it is not Bledel.

10.3.03 - From TV Guide Online: Gilmore Girls Becomes a Work of Art

Art imitates art this November on Gilmore Girls when the kooky residents of Stars Hollow decide to host their own version of the popular California-based Pageant of the Masters, in which living, breathing people re-create classic and contemporary paintings.

"It's going to be our big town thing this season," says exec producer Amy Sherman-Palladino, who jokes that she's prepared to make up for any budget overruns by holding "a big Gilmore Girls car wash. Me and the staff are going to go out and wash [überproducer] John Wells's car to raise money for Episode 7."

Details of the special installment are still being finalized, but this much we know: Lorelai will bring to life a Renoir painting, while Kirk (Sean Gunn) takes on the daunting task of playing God. "He's going to be Jesus in the 'Last Supper,'" laughs Sherman-Palladino, "and he takes it very much to heart, to the point where maybe he and Judas aren't getting along so well."

Of course, the real drama occurs behind the canvas. "Sookie is really close to giving birth in this episode, and has decided to do a home birth with a midwife," explains the exec. "It's going to be about Lorelai wanting to be there when the baby is born, and Lorelai trying to get along with the midwife." Yeah, yeah, it's always about Lorelai...

10.2.03 - Zap2It.com: Bach in the Saddle on 'Gilmore Girls' - Let "Will & Grace" pile on as many Oscar-winning actors as they want for cameos. When it comes to sweeps guest stars, The WB's "Gilmore Girls" has the only one who matters. With masterful Baroque composer Johann Sebastian Bach permanently indisposed, "Gilmore" producers have turned to the frontman of the somewhat less masterful Sebastian Bach and The Bach Tight 5....

9.26.03 - From TV Guide Online: When Gilmore Girls star Milo Ventimiglia returns to Stars Hollow later this season, his character, Jess, may have a surprise waiting for him: his mother. Series creator Amy Sherman-Palladino tells me she's "toying" with the idea of introducing Jess's never-before-seen mom (and Luke's sister) during February sweeps. "That would be a nice chance to get a really cool actress," Sherman-Palladino says. "Someone a little loony." Paging Sean Young...

9.21.03 - Okay, not that many people get this magazine, but in the September/October issue of Yale Alumni Magazine, there's a great article about the building of the Yale sets in Burbank for Gilmore Girls.

8.27.03 - Olivia Hack has been cast as Tanna, Rory and Paris's quirky college roommate. The 19-year-old actress, who did guest appearances on "Party of Five" and "Judging Amy" is probably best known as Cindy Brady from "The Brady Bunch Movie" and its sequel.

8.13.03 - Milo Ventimiglia will appear in three episodes of Boston Public on FOX, Variety reports. He'll play a bad boy with a hidden agenda.

8.11.03 - Kristin at E!Online reports that Milo Ventimiglia is in talks to star in a Wes Craven movie.

8.7.03 - TV Guide Online: Gilmore Girls Star's Weight Loss Secret - Gilmore Girls scene-stealer Melissa McCarthy shed nearly half her body weight over the summer, but viewers won't know what's missing when the show returns this fall; her alter ego, Sookie, will be six months preggers at the start of the new season. "I'll be wearing all these pads," laments the actress. "That's the irony...."

8.6.03 - Some (1 2 3 4) pictures at Yahoo of Milo Ventimiglia attending the Teen Choice Awards. And a couple (1 2) of Jared Padalecki. And some (1 2 3 4) of Alexis Bledel.

8.2.03 - In the August 2nd issue of TV Guide, Michael Ausiello reports that Melissa McCarthy shed more than 50 pounds over the summer, but viewers won't know what's missing when the show returns this fall. Why? Because her alter ego, Sookie, will be six months pregnant at the start of the new season. "I'll be wearing all these pads–that's the irony," laments the actress, who slimmed down with the help of UCLA's protein shake-intensive Risk Factor Obesity program. But even after Sookie delivers, executive producer Amy Sherman-Palladino says she won't make a big deal of the character's newly svelte self. "We never made an issue of her weight before," notes Sherman-Palladino, "so I doubt we will start now."

7.30.03 - The season premiere will air on Tuesday, September 23rd.

7.11.03 - From TV Guide Online: Looks like the WB is scared to debut Rachael Leigh Cook's new drama Fearless this fall. The Frog network has opted for a mid-season premiere instead, citing production delays. In its place, the WB will air One Tree Hill, starring Gilmore Girls alum Chad Michael Murray and newcomer James Lafferty as teens who find out they share the same father.

6.19.03 - There will be no spin-off of Gilmore Girls on the WB next season. The WB released a statement announcing that after careful analysis, to produce the show properly and totally on location, would have ultimately been too expensive.

6.18.03 - Gilmore Girls received two Teen Choice Award nominations. Keiko Agena was nominated for Best Sidekick, and Gilmore Girls itself was nominated for Best Comedy Series. The awards are scheduled to air Wednesday, Aug. 6 on FOX. Teens can vote on several categories at TeenPeople.com (a subscription is required).

5.13.03 - It's official! Gilmore Girls will be back for a fourth season on the WB, and will remain in the Tuesday, 8pm ET time slot, although following it will be the new show, Fearless, since Smallville will be moving to Wednesdays.

5.13.03 - From TV Guide Online: Noticeably MIA from the WB's new fall schedule: shows starring the men in Rory's life on Gilmore Girls. The Gilmore spinoff centered around Milo Ventimiglia's Jess character is being held until midseason, and the MacGyver update starring Gilmore hunk Jared Padalecki appears to be DOA. Of course, that's nothing a few paper clips and a dab of peanut butter can't fix.

5.13.03 - David Sutcliffe's (Christopher) new comedy, I'm With Her, has been picked up for the fall season by ABC, and will air on Tuesdays at 8:30pm ET.

5.13.03 - Chad Michael Murray's (Tristin) new drama, One Tree Hill, has been picked up as a mid-season show for next season by the WB.

5.7.03 - From TV Guide Online: Welcome Back, Kotter star Lawrence Hilton-Jacobs (Freddie Washington) was arrested Sunday in Venice Beach, Calif., for investigation of misdemeanor domestic battery. The former child star, who is now 49, allegedly pushed a woman to the ground during an argument. He was released late Monday on $20,000 bond. Why did I put this on the Gilmore Girls news page? Because he just played Jess's principal in April 29th episode.

4.29.03 - Lauren Graham will be on Celebrity Jeopardy on Thursday, May 1st.

4.23.03 - Zap2It.com: Deep Down, 'Gilmore Girls' Remains Small Town - The story of "Gilmore Girls" begins, as so many stories do, with wallpaper. "We went to Connecticut to look at Mark Twain's wallpaper, because we had just bought a house and we needed decorating tips," Amy Sherman-Palladino, creator of The WB series, told an audience Monday (April 21) at the Academy of Television Arts and Sciences....

4.15.03 - Gilmore Girls will join the ABC Family's lineup in the fall of 2004.

4.4.03 - Don't miss the fabulous review of Gilmore Girls in the April 4th issue of Entertainment Weekly on page 87.

3.27.03 - TV Guide Online: Gilmore Girls Boy Scoop! - Okay, Gilmore Girls fans. So you already know Jared Padalecki and Milo Ventimiglia, the cuties who play Rory's suitors, Dean and Jess, will likely leave the fictitious Stars Hollow, Conn., for other TV towns this year. Jared is the WB's new Young MacGyver; Milo's Jess gets a spin-off series co-starring Rob Estes as his dad. That means a showdown between romantic rivals is brewing!...

3.25.03 - Gilmore Girls has been officially renewed for next season.

2.26.03 - Rob Estes and Sherilyn Fenn have been added to the cast of the Gilmore Girls spin-off. Estes will play Jess's estranged father and Fenn will play the father's girlfriend. Since a four-year run on Silk Stalkings and and three seasons on Melrose Place, Estes has made brief appearances on Suddenly Susan and Providence. He also starred in the WB pilot Home of the Brave last year. Fenn is best remembered as Audrey Horne from Twin Peaks and best forgotten as the eponymous limbless star of Boxing Helena. She starred in Rude Awakening on Showtime and appeared in the pilot for The WB's Birds of Prey before being replaced by Mia Sara.

2.25.03 - Jared Padalecki has been cast as the lead in the WB's new MacGyver update.

2.20.03 - Chad Michael Murray (Tristin) will star in a WB pilot called Ravens.

1.29.03 - Wanda at E!Online reports that Alexis and Milo are a real-life, on-again off-again couple.

1.23.03 - ABC Family has inked a deal with Warner Bros. Television to air reruns of Gilmore Girls beginning in fall 2004. The cable network will pay the studio $500,000 per episode.

1.22.03 - TV Guide Online: Gilmore Girls Seeks Top of the Pops - Make room for Daddy! Now that the WB has decided to give Gilmore Girls hottie Milo Ventimiglia his own spinoff, the search is on for a mature looker to play the estranged father of his character, rebellious teen toughie Jess. While the network's taste in baby-faced heartthrobs is unimpeachable – the frog channel has introduced us to a host of prime-time princes, from James Van Der Beek and Scott Speedman to Jason Behr and Chad Michael Murray – when it comes to fathers, we think we know best. Check out our submissions for the pivotal part and see if you don't agree....

1.13.03 - A spin-off of Gilmore Girls is planned, with Jess Mariano moving to Venice and becoming this series central character. The spin-off will be introduced in two upcoming episodes of Gilmore Girls. More from Zap2It.com.

11.13.02 - TV Guide Online: Gilmore Hottie Gets the Girl! - Sweet guy Dean or dark knight Jess? The question of which boy Rory (Alexis Bledel) should choose on Gilmore Girls has plagued the show's young fans for more than a year. Well, on last night's episode, Dean (Jared Padalecki) finally gave Rory the go-ahead to pursue her simmering attraction to Stars Hollow's resident brooding rebel. But while Jess (Milo Ventimiglia) may have won the latest battle, he's hardly won the war....

10.28.02 - A WB spokesperson confirms to TV Guide Online that a line of dialogue from last Tuesday's episode of Gilmore Girls was dubbed over at the last minute as a result of the recent terrorist attack in Bali. In the scene, which was shot well before the Oct. 12 disco bombing that left more than 180 people dead, Lauren Graham's character Lorelai tells daughter Rory (Alexis Bledel) that her wealthy new crush just flew in from Bali. However, thanks to looping, producers were able to change the line from Bali to Maui. Unfortunately, the final product was rather sloppy: Astute viewers could clearly tell that Graham's mouth did not line up with the word she was uttering. Still, props to the WB for taking the sensitive road. A network spokesperson refused further comment.

10.7.02 - Wanda at E!Online reports that Alexis Bledel and Milo Ventimiglia may be dating in real life, but they're very private about it.

9.23.02 - Don't miss Alexis Bledel in the new movie "Tuck Everlasting," in theaters October 11th.

8.2.02 - TV Guide Online "Caught in the Act" - Girl Crazy: The Family Friendly Programming Forum honored Alexis Bledel as Best Actress for her work on Gilmore Girls at the Family Television Awards in L.A.

7.24.02 - The season premiere will air Tuesday, September 24th. First season episodes will begin rerunning on Sundays on the WB on September 15th.

7.12.02 - Gilmore Girls has earned the distinction of ranking in the Top 10 of Electronic Media's Critics Poll for the 2nd year in a row.

7.5.02 - Alexis Bledel is featured in the new A&F Quarterly. The title of the article is "Happy Gilmore". She talks a bit about modeling, Gilmore Girls, and her next movie.

6.20.02 - Lauren Graham has nabbed the female lead in the big screen comedy Bad Santa, Variety reports. Billy Bob Thornton stars as a man who masquerades as Santa in order to rob shopping malls.

6.17.02 - Zap2It.com: Speed Is the Key on 'Gilmore Girls' - If it seems that the characters on "Gilmore Girls" talk more and faster than on the average TV show, it's because they do. In fact, there's quantifiable proof that they do....

6.5.02 - Gilmore Girls was nominated for a Television Critics Association award for Outstanding Achievement in Drama. In addition, Lauren Graham was nominated for Individual Achievement in Drama. The TCA awards will be handed out Saturday, July 20, during the association's summer press tour in Pasadena, California.

5.14.02 - The WB released their fall season today, and not only will Gilmore Girls be staying in its Tuesday, 8pm ET time slot next season, but first season reruns will air at 7pm ET on Sundays.

5.2.02 - Don't miss the great article on Carole King and Gilmore Girls starting on page 63 of the May 4th issue of TV Guide. The only thing cooler than Carole King singing the theme song for Gilmore Girls is having the legendary songwriter appear on the show....

5.1.02 - TV Guide Online: Gilmore Girl Goes Boy Crazy! - As Rory on Gilmore Girls, Alexis Bledel plays a smart schoolgirl who's more about Atlas Shrugged than Teen Beat. Even so, she's just as susceptible to a bad boy's charms as wayward mom Lorelai....

4.29.02 - Zap2It.com: 'Gilmore Girl' Bledel Makes Smart Girls Cool - Starring on The WB's "Gilmore Girls" the past two seasons has been "educational" for Alexis Bledel. The role of Rory, the teenage daughter of single mom Lorelai Gilmore (Lauren Graham), was her first major part, and Bledel says it took time to get used to delivering the dense, rapid-fire dialogue penned by creator Amy Sherman-Palladino and the show's writing staff....

3.18.02 - Zap2It.com: 'Gilmore Girls' Switches to Emmy's Comedy List - Before "Gilmore Girls" even hit the airwaves of The WB, it posed a dilemma for the netlet: whether to pitch the show as a comedy or a drama....

3.18.02 - TV Guide Online: The Next Mrs. David Letterman? - "You are so engaged." That's all that Gilmore Girls creator Amy Sherman-Palladino could think to say upon hearing what happened behind the scenes between series lead Lauren Graham and David Letterman...

3.18.02 - TV Guide Online: Most-Wanted Kissing Co-Star Tells All - So thriving is Scott Cohen's career as a television guest star that, although viewers can't always think of his name, they sure do find his face familiar. Unfortunately, when a Connecticut police officer spotted the actor, he thought that it was from a Most Wanted poster...

3.9.02 - Lauren Graham and Alexis Bledel are named one of TV's MVP dynamic duos in the March 9th issue of TV Guide. On WB's Gilmore Girls, Lauren Graham, 34, and Alexis Bledel, 20, play mother and daughter Lorelai and Rory Gilmore, who have a kind of shorthand with each other. "I don't have to explain who the Foo Fighters are," Graham says. The actresses are in sync, too. She adds, "I feel lucky I'm not spending the day with someone I can't stand."

3.9.02 - Amy Sherman-Palladino is named one of TV's MVP writers in the March 9th issue of TV Guide. A veteran of Roseanne and Veronica's Closet, she has come into her own with this quirky mother-daughter drama that bridges the generation gap with warmth and wit. The show's creator has lots in common with her glib alter ego, Lorelai: "She's fast. She's quick," says Kelly Bishop, Gilmore's tightly wound grandmother, Emily. "She's a throwback to the Algonquin Roundtable and words meaning something."

2.27.02 - Lauren Graham, along with Kristin Davis (Sex and the City) and Stockard Channing (The West Wing), will be a presenter at the 8th Annual Screen Actors Guild Awards. The awards will be telecast by TNT from the Los Angeles Shrine Exposition Center on Sunday, March 10th, at 8pm ET.

2.5.02 - TV Guide Online: Gilmore Girl to Get Her Guy? - Oh, the irony! Most people spend their lives trying to get together with their better halves; Gilmore Girls creator Amy Sherman-Palladino struggles to keep apart a matched set, the dramedy's adorably acerbic heroine Lorelai and her platonic pal, rugged softie Luke....

1.31.02 - As expected, the WB cleaned up on Tuesday night with Gilmore Girls and Smallville airing in part opposite the President's State of the Union Address. The combined key demos for both shows earned the network its highest ratings for the time period since the November 2001 sweep. WB ranked #1 among women 12-34 (4.5/12), Teens 12-17 (4.5/15) and female teens (5.9/19). Gilmore Girls at 8pm delivered its best numbers since the November 2001 sweep, ranking #1 in teens and W12-34. Smallville (versus the President) tied its second highest delivery ever among W12-34 (4.4/12) and W18-34 (4.2/10) and earned its highest ratings since last November among several demos including A18-34 (3.9/10), M18-34 (3.5/11), M18-49 (3.2/8) and W18-49 (3.4/7).

1.29.02 - Lauren Graham was nominated for a SAG Award for Outstanding Performance by a Female Actor in a Drama Series. The Screen Actors Guild will honor its own at its 8th Annual Awards ceremonies on Sunday, March 10, 2002 at the Los Angeles Shrine Exposition Center, televised nationally on TNT at 8pm ET/PT, 7 pm Central, 6pm MT.

1.16.02 - Gilmore Girls has already been renewed for a third season by the WB!

1.8.02 - TV Guide Online: Meet Girls' New Boy How are viewers taking to Gilmore Girls' new rebel without an apparent cause, Jess? "Some girl on the street actually told me she hates me," laments Milo Ventimiglia...

12.21.01 - In Entertainment Weekly's special year-end double issue, Gilmore Girls, along with Ed, is named the #4 show of the year by Bruce Fretts. The real draws of these warm sophomore dramedies are the enticingly idyllic small towns they're set in–modern-day Mayberrys populated by lovable eccentrics trading rib-tickling dialogue. What better retreats from the big, bad real world?

12.20.01 - Lauren Graham was nominated for a Golden Globe Award for Best Performance by an Actress in a Television Series - Drama. The Golden Globes will be broadcast on NBC at 8pm ET Sunday, January 20th.

12.7.01 - Take the TV Guide Gilmore Girls Trivia Quiz.

12.4.01 - Wanda at E!Online reports that Gilmore Girls is working to get Chad Michael Murray (Tristin) back for one or two more episodes later in the season, but it really depends on what goes down with yet another WB show craving his God-like goldilocks. The upcoming teen Tarzan series will most likely name Chad as the lead swinger--he's in final negotiations as we speak.

12.1.01 - From the December 1st issue of TV Guide: What has changed for Yanic Truesdale, the Gilmore Girls's haughty concierge, since he was named one of "10 Actors to Watch" by Daily Variety? "I wish I could say it's changed my life dramatically, that the show's all about me now. But no, it's still called Gilmore Girls," he says. After a decade of French-speaking roles in his native Canada, he moved to Los Angeles and scored with the WB series. But living in L.A. takes some getting used to. "It's a very dysfunctional city," Truesdale says. "People's priorities are far removed from the essentials of life. Hopefully, after September 11, all those plastic people with fake noses, fake lips and fake boobs will realize that loving youself and respecting others' way of thinking is more important." We can only hope.

11.20.01 - TV Guide Online: Dawson's Hunk: "Me Tarzan?" - a bit on Chad Michael Murray

11.4.01 - Lauren Graham announced the winners of Best Guest Actor and Actress in a Comedy Series at the Emmys (Sir Derek Jacoby and Jean Smart).

10.22.01 - Since reruns of Charmed on TNT have been such a success, the cable network is reportedly talking about re-purposing another of the WB's primetime series for a second run. Top-running candidates include Smallville and Gilmore Girls.

10.10.01 - Zap2It.com: 'Gilmore Girls' Warms Up to New Timeslot

9.17.01 - Showtime has ordered a 2-hour pilot for a new series called Street Time from Columbia Tristar Television Distribution. The show will star Rob Morrow (Northern Exposure, Quiz Show), Scott Cohen (Gilmore Girls, NYPD Blue) and Erika Alexander (Living Single, The Cosby Show). It's about a parolee played by Morrow, and his two parole officers, Cohen and Alexander. The show is written by Richard Stratton and Stephen Kronish, directed by Mark Levin.

9.1.01 - From the September 1st issue of TV Guide: When Amy Sherman-Palladino created WB's Gilmore Girls, she had a non-WB-style singer in mind for theme: Carole King. King agreed to rerecord her 1971 classic, "Where You Lead" – and even decided to duet with her daughter Louise Goffin to tailor the song to Gilmore's mother-daughter theme. "It has a teen element," says series star Lauren Graham, "but it's through the eyes of a mother who's not a teen" – unlike most WB shows, which promote teen sensibilities and pop music from Warner labels. But Sherman-Palladino says there hasn't been pressure to use certain artists: "They'll say, 'We've got a new artist, what do you think?' Sometimes it works. Sometimes it doesn't." In one season, she has managed to include songs by her favorite artists: the Bangles, John Lennon, XTC, Louis Armstrong and Sam Phillips, who scores the series. Sherman-Palladino jokes, "I was afraid I'd get: 'Hey, there's a 12-year-old, Kimmy, [who's] got a new hit, "I Wanna Feel Your Love."' But [WB execs] have embraced the sound of the show. It's part of what makes it different – that we don't have 'Kimmy.'"

8.28.01 - TV Guide Online: Gilmore Girls Living Single - Inquiring Gilmore Girls aficionados want to know: Will single mama Lorelai (Lauren Graham) ever get past the percolation stage with coffee-shop owner Luke (Scott Patterson)? This fall, how about seeing a robust, full-bodied, fire-roasted romance..."

8.25.01 - Aug. 25 issue of TV Guide: Who says you have to look like Pamela Anderson to be sexy? Certainly not Liz Torres, who plays dance teacher Miss Patty on WB's Gilmore Girls. For her, sex appeal is more than what's on the outside. "Confidence is sexy," she says. "I look at Oprah and I think, 'You go, girl!' But I hear men talking about her like, 'She's too self-confident.' A lot of men are put off by that." Men certainly won't be put off by the fact that Torres absolutely loves TV. She's got a set in every room. Her favorite channel: Home Shopping Network. "I'm hooked," she says. Her best buy: a Fantom vacuum cleaner. "It will suck everything out of your carpet. And it's only like $162."

8.10.01 - Gilmore Girls won a Family Television Award for favorite new series and Lauren Graham won for favorite actress (tying with Jane Kaczmarek from Malcolm in the Middle).

7.22.01 - Gilmore Girls was named best new drama by the Television Critics Association.

7.17.01 - The television community may be up in arms over Emmy voters' snub of Gilmore Girls, but the show's laid-back leading lady isn't jumping on the bandwagon. "If people out there feel we should have been recognized in an official way, that's so flattering and so nice, but I'm not mad," Lauren Graham tells TV Guide Online. "I think it takes a while and we're on a young network."

6.28.01 - Gilmore Girls has scored a hat trick in the nominations for the prestigious Television Critics Association Awards. The Gilmore crew, headed by Lauren Graham & Alexis Bledel, is nominated for Outstanding Achievement in Drama, Program of the Year, & Outstanding New Program of the Year. The 17th Annual TCA Awards will be presented on July 21.

6.27.01 - Zap2It: Gilmore's Sherman-Palladino Signs WB Deal - Warner Bros. Television has given a three-year production and development deal to Amy Sherman-Palladino....

5.16.01 - The WB and TNT are currently in talks to share Charmed, Gilmore Girls, Felicity, and the WB's latest, Smallville. If the deal goes through, TNT would air each show within seven days of its original broadcast on the WB. In addition, TNT would air the shows at 10pm, so as not to compete with the any of the WB's primetime line-up. TNT is expected to schedule Gilmore Girls to air on Mondays at 10pm.

5.15.01 - According to the WB's Fall Scheduley, Gilmore Girls will be returning next season in a new Tuesday, 8pm ET time slot.

4.10.01 - WB press release: Gilmore Girls has won the 2001 Young Artist Award as Best Family Drama TV Series, & Alexis Bledel won Best Performance in a TV Drama Series – Leading Young Actress. The Young Artist Awards recognize up-and-coming talent & promote wholesome, entertaining films & TV series showcasing positive family values. And young people are responding. On Thursday April 5, Gilmore Girls jumped 46% among teenage girls and a whopping 160% with teen boys from the prior week!

4.4.01 - Don't miss the great article on Gilmore Girls (and Sarah Michelle Gellar) on page 99 of the April 6th issue of Entertainment Weekly.

3.20.01 - TV Guide Online: Girls Power: WB Drama to Return

3.13.01 - Zap2It: Gilmore Girl Jumps to the Movies - Alexis Bledel has been cast in a lead role in the feature "Tuck Everlasting," according to Variety....

3.13.01 - Zap2It: Gilmore Girls Creator Puts Rumor to Rest - Gilmore Girls creator Amy Sherman-Palladino put to rest the rumor that she doesn't actually exist, but is really just a pen name for Aaron Sorkin....

3.8.01 - At the TV Guide Awards, which aired on Fox last night, Lauren Graham, along with Traci Ellis Ross ("Girlfriends"), presented the Actor of the Year in a New Series Award to Tom Cavanagh ("Ed").

1.30.01 - Lauren Graham was nominated for a Screen Actors Guild Award for Outstanding Performance by a Female Actor in a Drama Series. This year's awards will be presented on Sunday, March 11th, 2001 at the Los Angeles Shrine Exposition Center and televised nationally on TNT at 8pm ET.

1.27.01 - Matt Roush gives Gilmore Girls a wonderful review on page 16 of the January 27th issue of TV Guide.

1.2.01 - Gilmore Girls was voted one of the top shows of TV critics across the country, beat out only by The West Wing, Malcolm in the Middle and Ed for the top slot in Electronic Media's biannual critics poll. More...

12.29.00 - "Gilmore Girls" has been nominated for three TV Guide Awards: New Series of the Year and Actress of the Year in a New Series (Alexis Bledel and Lauren Graham).

12.21.00 - Amy Amatangelo at dish this says that Gilmore Girls is her number six show of the ten best shows of the year.

11.14.00 - WB Press Release: Viewers for Quality Television calls Gilmore Girls the season's best new drama and best-written new series. It also praises its star, Lauren Graham, declaring her best actress in a new series and her character, Lorelai Gilmore, the season's most interesting new character.